Circus of Life
A Mama's Boy Learns the Art of Juggling
Photo by Clément Falize on Unsplash
All the ladies at the beautifying shop were jealous that Erma Franklin's boy was the perfect son.
He worked hard on the farm and never complained, did all the house chores without being asked, sewed his own clothes when they were tattered, got good grades in school and sang wonderfully in Pastor Alfred's church services.
Chipper Franklin was waiting patiently for his mama at the beautifying shop, her friends fussing over him and cheek pinching when he saw the pictures in the Look magazine of the man juggling.
Then he was tugging at his mama's sweater to go to the bowling alley, which was on the outer edge of Willoughby, clear past Elk River Road, closer to Shandy Harbor than home.
But he was a good boy, so she dug into her nickel purse and took him.
Puzzled the goodness out of Erma that he was more interested in the boys resetting the pins than he was his own game of bowling.
He excused himself to go to the lavatory, then Erma saw him wandering down the opposite way of the Boy's Room and she thought he might have a fever.
She was convinced he had a fever when he asked her to pull the car behind the bowling alley because he needed to get something.
Jimmy Doom's Roulette Weal is a reader-supported publication. To receive new posts and support my work, consider becoming a free or paid subscriber.
She got a fever herself when he pulled a dollar out of his pocket and gave it to a rough-looking pinsetter boy in exchange for 3 cracked bowling pins.
Erma Franklin's perfect son got less perfect as the days went by, chores getting neglected as Chipper spent hours in the barn, juggling those pins.
Photo by Brad Preece on Unsplash
One Sunday night, as Erma was setting sweet potato casserole on the table, Chipper said: "Mama, I'm gonna try out for the circus."
Erma Franklin dropped her favorite casserole dish, but Chipper's arm darted out and caught it before it clattered to the table and set it down gently, his farm chore callouses keeping him from being badly burned.
"I can juggle real good mama", he said. "I'm gonna join the circus and see the world. Whatever they pay me, I'll send half to you."
Erma had tears in her eyes when her just turned fourteen-year-old boy set out hitchhiking to see the Extravaganza Circus train arrive in Shandy Harbor, carrying a burlap sack with bowling pins and onions and Erma Franklin didn't want to know what else.
Most of the kids wanted to see the elephants and tigers.
Chipper Franklin wanted to meet the boss.
---
Chipper had to hold his mama upright with two hands when they went to Shandy Harbor so he could show her the circus sign that had a brand new piece of canvas hanging from it.
She wanted to be proud, but this was alien territory for her.
" Shiloh County's Own Fantastic Franklin! Juggler Extraordinaire!"
For three days Chipper Franklin stood in the ring in an ill-fitting sequined outfit loaned to him by one of the trapeze artists and juggled everything he ever dreamed of and more.
Mr. Cassidy, the circus boss, had given him a set of bright red jugglers clubs just like the man in Look magazine had, some swords that looked sharp but weren't, fruit, vegetables and fancy looking fake crystal glasses.
When he took a bow at the end of his performance Saturday night, the first people to stand and cheer were all his mama's friends from the beautifying shop.
The applause soaked into Chipper Franklin like tractor oil in the sand.
When the whole circus ended, after the Amazing Azzara had been shot from the cannon onto the back of an Elephant called Pimbo to the crowd but really named Maude, Chipper knocked on the door of Mr. Cassidy's office.
Mr. Cassidy waved him in with a grunt.
"Should I get home and pack my bags, sir?"
Mr. Cassidy put down the pencil he had been writing with, twisted his pinky ring back and forth and said "Bags? Why, boy? You win a trip around the world on a hot air balloon?
Chipper gulped.
"I thought…did I not do a good job, sir?"
Mr. Cassidy stood up, groaning slightly as he did. The suit that looked so pristine when he stood in the Shandy Harbor town square talking to the mayor showed signs of wear.
"C'mon, son, let me show you something."
Chipper followed Mr. Cassidy to the front of the circus yard. Most of the crowd was gone, and circus workers were dismantling the displays, petting zoo fences and games of chance.
Mr. Cassidy pointed to the Fantastic Franklin sign.
"What does that say, boy?"
"See Shiloh County's Own Fant-
"Do you think we're going to another Shiloh County? No. We're not. It's like sucking a dick off a polar bear to sell tickets in these podunk towns. I need local boys and girls like you that have a special talent to put asses in the seats, and I'm gonna pay you a fair wage for your services. But every county has a citizen that's good at something, boy, and if it doesn't, we dress up the volunteer fire department like clowns and let them peddle tickets.
Every real clown I got can juggle just as good as you, boy. Why the hell you think we got all the juggling gear? So, sorry, there's no sense in me bringing you along."
Jarvis "Chipper" Franklin Jr. wouldn't let down his dead daddy and cry, so he bit his lip double hard and said, " I want to work for your circus."
Cassidy looked at Chipper. He wasn't strong enough yet to be a rigger, but maybe he'd grow into it. Cassidy had too many damn clowns and too many shit sweepers.
"What do ya know how to do besides juggle, boy."
Chipper blurted out "Nothin, sir. I mean, except milk cows, slop pigs, fix tractors, sew clothes, harvest strawberries, build grain silos, I ain't too good at math but I manage and…"
"You sew, boy?" Cassidy asked as if Chipper had said he could fly.
"Yessir. I could have sewn that costume to fit me but it wasn't mine to sew."
"My last…seamstress…quit on me. I guess that means you get a chance.'
---
Erma Franklin felt guilty for sobbing twice as hard that night as she had at Jarvis's funeral. She was not going to be happy if Jarvis, Jr. was leaving to be a juggler. But leaving the farm to sew circus costumes was beyond any nightmare she could have had for her perfect little boy.
And no matter how hard she protested, and how many tissues she drenched, Chipper had his mind made up.
He packed his bags so hastily that it made her cry harder.
If she could have looked at him, she would have seen he was crying too. But his mind was made up. He knew he'd get to juggle again.
---
Chipper got to watch the show most nights, which was exciting and frustrating in equal measure. He heard the applause and knew he had the talent to be out there. But Georgie the Dwarf clown juggled most nights, the crowd loved him, and Georgie seemed to be a good guy.
Cassidy was a gruff taskmaster, and though Chipper still believed in himself, his confidence he'd get a chance waned, which opened the doors to homesickness wider.
Tolan, Cassidy's assistant would drop off bags of garments to be repaired, as well as canvas signs.
One day he looked at Chipper and said "Can't believe he hired a boy seamstress. Nothing against you. It's just…" Tolan left without finishing his thought.
The young juggler celebrated his 15th birthday in Salina, Kansas. The only gift he got was a small flask of brandy from Oksana, the horse trainer, whose cloaks he worked on often. She made the brandy herself and said he could keep the flask as long as he worked for the circus. Late in the day, near showtime, he got a visit to his sewing tent from Elena, one of the daughters in the family of Romanian tightrope walkers, not much older than him.
Without a word, she stripped off her one-piece costume and handed it to Chipper.
She was the first naked girl Chipper had ever seen, including pictures. The closest he had come was an artist's rendering of Eve in the Garden of Eden, partially covered by a snake.
"Please sew," Elena said, jabbing at the ripping seam with her index finger.
"You're…you're naked," Chipper said.
"Pigman Cassidy come into changing tent always. He see me. He touch me. I hate it. You see me, I do not care."
Chipper tossed aside the garment he had been working on and hurried to sew Elena's costume.
He was ten times as nervous as he had been juggling in the ring.
Elena folded her arms in front of her breasts, only from the chill, not from modesty.
Chipper immediately stood and unbuttoned his shirt, handing it to the petite performer.
"Foarte mult," she said. "Thank you much."
He finished sewing the costume and stood, holding it awkwardly toward Elena who was still wrapped in his shirt.
He thought it better to run to his bunk and get a shirt while she changed into her costume. His head still spun from his brief glimpse of her naked body.
"You keep the shirt, I'll, I'll just go get another." He could hear himself stammering. Her smile was disarming. The whole scene was beyond his comprehension.
As he walked past her, he could smell a spicy fragrance in her black hair.
Reaching after him, she squeezed his shoulder.
"You are sweetest," she said.
He stopped, his brain failing to form words. He began to grab her hand and hesitated.
A fist hit his jaw so hard he didn't realize until dirt from the floor of the tent was in his bloody mouth.
"That's mine, farm boy" Cassidy barked.
Elena shrieked. It made some of Oksana's horses whinny.
Chipper pulled himself up to a sitting position.
Cassidy was glaring at him.
"Sorry," Chipper said, instinctively.
"No, no, no, no one sorry, except Pig Man."
Confused and frightened she shrieked again.
Riggers, clowns and Elena's father and sister ran into the small sewing tent.
Cassidy pointed to the shirtless, would-be juggler.
"Seems the sewing farm boy didn't learn any manners on the farm."
Elena's father wrapped his arms around his daughter, who was still holding her costume with Chipper's shirt cascading from her shoulders. The patriarch of the tightrope walkers bellowed something Chipper couldn't understand.
"No, tata, no," Elena said and began to cry.
"Get your stuff and get out of my circus," Cassidy said. "Ain't gonna tolerate this."
Chipper squeaked out a "but", but Cassidy had stormed off and the small crowd dispersed. He could hear Elena's angry father over the sound of the calliope music in the performance tent.
A clown named Rocco helped Chipper to his feet.
"I didn't…"
"I believe ya kid, but I don't have time to listen to the story." Rocco flipped a cigarette into the dirt and shuffled quickly off in his oversized shoes, straight through the flaps of the main tent and out in view of the crowd.
Chipper grabbed his dad's old army duffel bag from under his cot. It was too heavy to hitchhike back to Michigan with. He picked it up anyway-what would his mama say if he came home empty handed-and carried it out into the Circus yard. He could see the new canvas-one he had cut-advertising a local woman who could swallow swords. He wondered if she could sew.
He heard Georgie's infectious laugh behind him.
He turned around.
"Georgie," Chipper said, looking around to see if Cassidy was anywhere nearby. "I got fired."
"I heard, kid. Heard you were messin' with Casshole's prized possession."
"I didn't…she…I…"
Chipper was way closer to tears than he knew.
Georgie pulled his neverending scarf from his lapel and wiped blood from Chipper's now very swollen lip.
"Don't have to explain to me. Elena's a princess. Casshole has no business with a girl like that, especially that age, especially one that hates his guts. Good luck, kid. You're a good juggler. You shouldn't be sewing anyway, you should be on a stage. Have a safe bus ride home."
"I'm hitchhiking, Georgie. I sent my pay home to my mama."
The clown looked at him and the smile under the makeup smile was real. "Unbelievable, kid. You should have been a breakfast cereal ad."
Georgie turned and ran off, his big shoes making flapping sounds as he ran.
Chipper walked out to the two-lane. He didn't want to start hitchhiking until he was away from the crowds at the petting zoo. The circus made him feel special. Now he just felt like a poor farm boy. He was a quarter-mile from the interstate when he heard flapping behind him.
He turned, and it was Georgie, sprinting with a burlap sack. Had Chipper forgotten something?
Chipper walked back toward him, to heck with the heavy duffel bag.
Georgie put his hands on his knees for a moment, then snatched up the bag and handed it to his friend.
Chipper opened it to see the juggler's clubs.
"Georgie, what are you…"
"Georgie has a plan, kid, don't worry. And if Cassidy doesn't like Georgie's plan, Cassidy can kiss my ass and hunt for a new dwarf clown.
Now take those clubs to the train station, set a hat down on the platform and entertain the people until you have enough money to get home to your mama."
---
It took Chipper that night and the whole next day to make train fare, then he had to stay one more night to get a train to Chicago so he could get a train to Grand Rapids and hitchhike home.
---
He could see the farm when the pickup he was riding in crested the hill at Bluff Creek, but the sun was in his eyes and something looked different down by the road.
Photo by Nick de Partee on Unsplash
The truck dropped him right in front.
There was a big wooden sign that read Franklin Farm StrawBerries U Pick Em! above a table with a gingham tablecloth and a stack of bushel baskets.
Three cars were parked in the driveway, and people were in the fields, picking the strawberries Chipper once picked with his mother and uncles.
A woman's voice said, "Welcome to Franklin Farm if you'd like…"
Chipper said " Mama!"
His mother looked up from her knitting and stood, revealing herself above the bushel baskets.
"The prodigal son has returned."
He ran behind the new stand and lifted her into his arms. After a long embrace, she pulled back and noticed his now only slightly swollen face. That night, they had the longest talk they ever had, though Chipper thought it best to leave out some important details.
---
Jarvis Jr. outgrew Chipper and spent his days in June juggling behind the U Pick Em stand, hitting from the flask he had forgotten to return to Oksana.
He juggled for the love of it, and out of boredom on the slow drizzly days, but soon it became a gimmick, and families came to Franklin Farm specifically to see the juggling farmboy. He incorporated a few things he learned from Georgie and the other clowns to entertain the guests and talked his mama into letting him build a pen so a few sheep and ponies could become a little petting zoo.
Five years after Chipper left Salina, Kansas, The Extravaganza Circus came back to Shandy Harbor.
He wanted to see his friends, but he couldn't bring himself to go and to hear the applause, which still echoed in his head, and to think about what might have been.
He didn't even bring the clubs out that week unless a family requested it.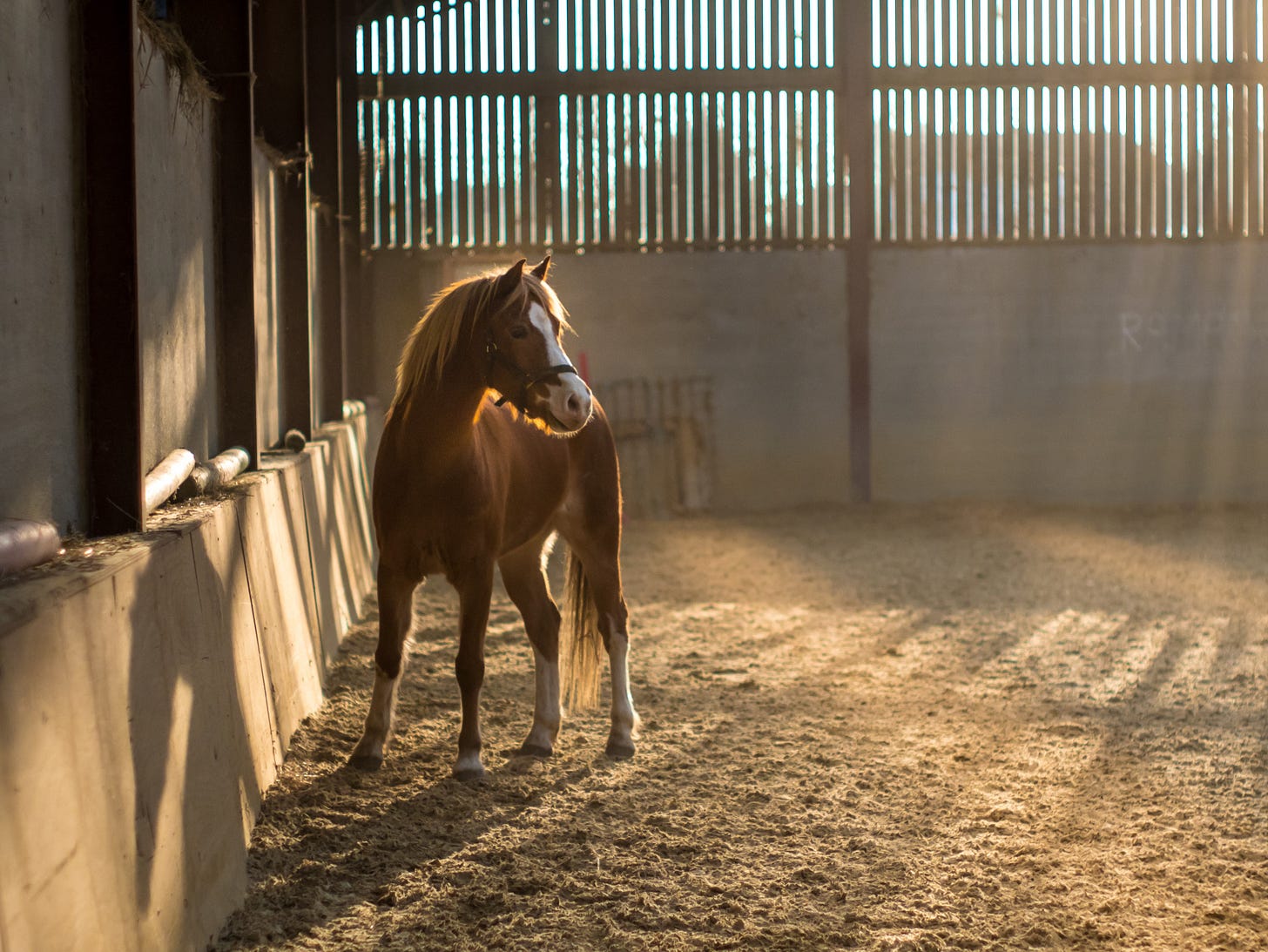 Photo by Filipe Dos Santos Mendes on Unsplash
Grooming a pony up in the barn, he heard his mama's voice calling from much too close. She should have been down at the stand.
He ran out of the barn, slightly panicked.
"Mama?'
"Jarvis Junior? There is a dwarf at the stand asking for Chipper."
His heart pounded like Oksana's stallion's hooves.
"Georgie!"
"Yes, that's his name, honey. He's with a beautiful woman with jet black hair…"
Jarvis Franklin Junior, known most of his life as Chipper and all too briefly as "The Fantastic Franklin" pivoted like a wind-whipped scarecrow and was sprinting down the long gravel driveway, moving much too fast to hear his mama say "…and a baby."